Subscribe
to our
FREE Monthly
e-Newsletter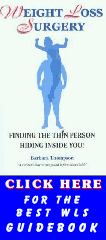 Question of the Month
Protein
My suggestion for a good and easy protein source comes from Laura, one of the nurse coordinators for my surgeon, Dr. Phil Schauer at UPMC in Pittsburgh:
In one cup of Cool Whip Free, add 1 scoop of protein powder. I use Dr. Atkins Vanilla Shake Mix. You may add a little milk if it is too dry or thick. This is a very easy way to get down 12 grams of protein, which is equivalent to about 2 ounces of meat. Two ounces of meat may not sound like a lot, but when I was newly post-op, eating 2 ounces of meat was a major undertaking.


From Rita Jorgenson

Here's a tip I got from my surgeon on getting in that protein. It's so simple and obvious I can't believe I didn't think of it. Simply cut up in tiny cubes turkey, ham, chicken, beef, whatever you like and instead of reaching for that cracker or chip, or worse, keep these ready and handy and take a few of them. Each time you're adding the needed protein and avoiding
getting back into the carbs. I keep them in the snack size plastic baggies.

My surgeon strongly believes in not buying those expensive protein shakes, meals, etc. and just doing it the obvious way and his hint to me here was, as I said, so simple and so very obvious.
Rita
My Dr. recommended a product called, 'AMINO 2222 LIQUID' from GNC. This has 22 grams of protein in the 3 TBL dose. It is a thick liquid with a very, very tart taste, has no sugar just pure Crystalline Fructose. I add it to my Crystal Lite raspberry ice flavored drink and it goes down very well.
I take Isopure Protein which is 50 grams. It comes in chocolate, vanilla or strawberry. You take 2 scoops of chocolate powder and 2 pkgs equal and one banana and chocolate soy milk. Use soy because it doesn't upset your new stomach and it taste good. Mix in a blender. This doesn't taste terrible. My husband drinks this and doesn't even know what is in it! Try it! You'll like it! Thanks for your newsletter,

Joan P.S. My hair is now coming back in and I am so happy. You said it would and it did!!!
Hi Barbara,
I just wanted to let you know of a couple of protein drinks that I learned about from another patient in my support group. She found them at Wal-Mart and they aren't too pricey (about $4-$6 for a 4-pack). The one she uses is called Advant Edge Carb Control. It has less than 1g of sugar and 15g of protein. Our store carries three flavors: Chocolate, French Vanilla and Strawberry Creme. They are pretty thick and very filling. This particular brand makes both regular and low carb protein drinks, so make sure you get the one that says carb control on the label or you'll get extra sugars. I also grabbed another one by accident while trying to find this brand. It is called Carb Solutions and comes in a mocha flavor, Rich Chocolate and Creamy Vanilla. I believe they also have a strawberry flavor. It has 1-2g of sugar depending on the flavor and 20g of protein. They are a little sweeter tasting than the Advant Edge drinks, but still pretty decent. They are quite an improvement over some of the other protein drinks I've tried. Both brands also sell protein bars. I have tried a few of them and the taste leaves a little to be desired. I get excited whenever I hear of something that works for someone else and just thought I'd share the info to see if you've heard of these, tried them, or maybe know of some people that might be able to use it.
Thanks,
Mary Valentine
Hi Barbara,
I am 5 days post op and wanted to share some products that I have found that are helping me get in my protein. I hate milk so those milk based protein shakes are not acceptable to me. I did lots of research pre-op to find protein that I could get in easily early post-op. First I am using a product called Proteinex. It is a little hard to find but can be found on the net and some drug stores. It has 15 grams of protein per 2 tablespoons! You take it like cough syrup or medicine. It has an orange flavor. There is no sugar, carbohydrates or fat in it and is 60 calories per 2 tablespoons. The taste honestly is not great, but definitely edible with just a swallow and does not have much of an aftertaste. If you take 2 tablespoons 4 times a day, that it 60 grams of protein! I tried mixing it with crystal lite and didnít really like the flavor, so I just take it like medicine. Again it does not taste great, but it is edible when just swallowed.
Another product I found doing research is made by a company called New Century Health Products. They have protein jello, pudding, shakes and soups. Each has 15 grams of protein per 4 oz serving. The cost is about $1.14 per serving. There are tons of flavors to choose from in each category. I have tried the jello and pudding and find them not delicious, but pretty good! I have listed their toll free number below. They can tell you stores near you to buy the products or you can order directly from them. If you order direct, you must order a minimum of 1/2 case of products, but they will totally mix and match the products for you. They are very nice and helpful over the phone. They do not offer samples. If you find their products in stores, the mark up is about 100%! So I just buy directly from them. They do not have a website.
New Century Products (Illinois)
Phone number : 1-800-451-2290
I doubt that I will use these products forever for cost reasons and the transition to normal food sources for protein, but using them early post op to get in protein seems to be an excellent option.
From Rita Koyoumjian:
I am writing to tell you of a few of my strategies for adequate protein intake. There is a product called. "Met Rx", It can be purchased at all GNC nutrition stores. It is a powder that mixes with water to make either a pudding or milkshake consistency, depending on how much water is added. It is very rich in protein (37-39 grams).There are lots of delicious flavors. Because it comes in convenient travel packets, it can be taken in powder form to work, trips, etc
I also munch on dry roasted/ unsalted peanuts or sunflower seeds as a snack. They have 8 grams of protein per oz, and 0 cholesterol. Hopes this helps someone out there!!
From Lee
Buy liquid protein at the health food store and drink it with orange juice.
From Aussie:
Here is a recipe for a protein smoothie:
2 scoops of Vanilla Isopure
2 frozen strawberries or frozen pineapple
ľ frozen banana
Coconut Extract (a few drops)
Add some water and crushed ice and blend.
From Rev. Marcel Lamb:
I found that drinking Isopure (a whey protein isolate that is low in carbohydrates and aspartame sweetened) was very helpful during the initial stages of my recovery from surgery. Isopure has about 40 grams of protein per bottle. Later, I've learned to eat Designer Whey low carbohydrate protein bars with about 30 grams of protein. Both are available at GNC stores.
From Donna

I read all the protein sources listed. I use one called Vita4Live protein.
It is a liquid predigested protein that has 30 grams per 2 tablespoons.
Comes in Honey or Mocha (tastes just like coffee).

I am one of the less fortunate that CANNOT have milk , CANNOT swallow
anything thicker than orange juice and CANNOT use any artificial
sweeteners..

This is the best protein I have found...easy to take, not expensive
(comparably) doesn't taste terrible and is not thick at all.
These are made especially for WLS patients.
http://www.vita4life.net/

They also have vitamins/ minerals in dissolvable tablets or capsule.
Thanks,
Donna