Subscribe
to our
FREE Monthly
e-Newsletter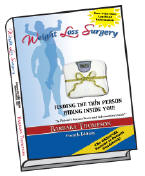 Have You Ordered Your Book Yet? Click Here
Question of the Month
Insurance
Hi Barbara:
I don't think this is innovative, but it is something that worked very well for me, and I don't see many use this method.
I had my PCP write a letter to my insurance company requesting insurance approval before I ever even made an appointment with a surgeon. My PCP knew me well, had worked with me on weight loss attempts, and had seen me succeed and then fail as I regained it all.
I have Cigna PPO, and although I knew I had asked my PCP to write a letter in support of the surgery, imagine my surprise when I called the insurance company to check and see if they had the info from the surgeon only to be told "you are approved for gastric bypass, all you need do is select a surgeon and pre-certify for the hospitalization".
My approval was on April 18th, my first surgical consult was on May 2nd.
Anyone even thinking about surgery as a "remote possibility" should, in my opinion, work with their PCP now to establish a good history of weight loss attempts and failures.
Pam
Open RNY 6-18-01, paid 100% by insurance
Hi my name is Nikki Dumont.
I wanted to write and let people know that you are not the only one battling the insurance company.

I went to my pain management doctor one day and got the bad news that he had done all he could for me and that until I could lose 200 pounds, there was nothing he could do for my bad back. He then mentioned gastric bypass surgery.

I went home that day and called my insurance company and they said that gastric bypass surgery is covered if deemed "medically necessary." I thought, well the battle is over. How could they deny me? I am 5'6" and weigh 397 pounds and have co-morbidities out the ear!!

So I sent in my referral and started the wait. Well that wait was horrible. I was denied within 24 hours of their receiving my request. The reason was "not medically necessary!" I was so mad. How in the world could they say that when I had a 400% chance of a heart attack at the age of 30?

I decided there was no way I would allow them to kill me. So I tried to think of what I could do to make them wake up. I sat down and wrote a 5 page appeal letter expressing things I have never expressed about myself to anyone, things I didn't even want to admit to myself, but I did it!

Then I thought about "higher ups!!" But I had to figure out who was higher than the almighty insurance co. I called my State Insurance Commissioner! I told him that I was being denied a covered benefit that I met the requirements for. They sent me paperwork to fill out so they could investigate. I filled out the forms, made copies and sent a copy to the insurance co. I never sent it back to the State Insurance Commissioner. But I would now just to make sure.

Then I also thought who else could help me. I called my State Representative. He also was more than willing to call the insurance company to find out what was going on.

I fought for over 25 weeks but I BEAT the insurance company. It was the most triumphant day in my life. I was crying like a baby.

January 20th was my 6 month anniversary of being a post op! I lost 155 pounds in 5 months and still going. I have about 80 more pounds to go. So hang in there and fight. DO NOT let the insurance companies win. They put some arrogant person in the approval department who probably has never had to battle being obese, so stand up for yourself and do whatever you have to do to get your life back. No one else can do it for you! God Bless.

Nikki Dumont
From Collette:

PERSISTENCE!! It took me almost a year to get approved.
From Rebecca Tish:

Barbara,

I think it is very important to "help" your insurance company out. I am sure they receive thousands of claims for various reasons, so, to help them makes things easier for them and helps you get a faster approval ( at least I hope!).

I had my insurance papers turned in on Dec. 18th. They were mailed so they were probably not received by the insurance company until the end of that week. The next week was Christmas, so, I wasn't expecting any kind of work from anyone. :) But much to my surprise, on Dec. 28th, I received a phone call from my health insurance to say I was approved. I had surgery on Jan.11, 2002 and I am doing great.

Now, I made sure that the insurance company. wouldn't have to go out of their way to read my claim. Let me tell you what I did.

First, I personally picked up my own medical records from any doctor or weight loss center I had ever been to lose weight. I went through those records myself and highlighted every time a doctor called me an obese woman, any weight related medical problems, etc.

Then I made an outline of my weight loss and gain since high school. I am 34 years.old. now, so, I tried to make it simple. I put the year, how much I weighed, how much I lost, and how much I regained. I also put what technique I had used to lose weight. I also included my medical history on there and any co-morbidities. Along with this I put my family medical history. I wanted the insurance company. to see how obesity had affected me and my family.

Then I wrote a letter to the insurance company. I used excerpts from an appeals letter that a woman had written to get approved after denial, but, for the most part, I wrote the majority of it. I wanted to make me a real person to the insurance company, to show them that I do have children, a husband, family and friends. I had the surgeon's office send in this letter and outline with my medical records and insurance claim. I am assuming this was a big reason I was approved so fast. I was prepared and made myself a real person to the insurance company.

I hope that maybe you can pass this along to the many others who are fighting the insurance companies. This might help in their fight. If you would like examples of the outline and letter, I would be more than happy to send them to you!

Rebecca Tish

Open RNY
Jan. 11, 2002
Dr. Sidney Rohrscheib
Illinois Bariatric Center

-15 pounds and losing ...... :) spiritgirl1967@yahoo.com
Mary writes:

I just had a revision done of my vertical banded gastroplasty. ,I was denied twice and was devastated. I asked my doctor what to do and he said to fight and that is what I did. I searched the internet and found http://www.obesitylaw.com . The lawyer had a gastric bypass himself so he and his wife have a practice that specializes in fighting insurance companies over refusal to cover weight loss surgery. It didn't even take long. They charged $350.00. That's all, and we won. They are the best! They will help you, I promise.
Tori Kelly writes:

I waited approximately 7 weeks for my insurance company to approve my surgery. I had a date scheduled, but no approval. So, about 1 week before my scheduled surgery date, I contacted our insurance agent and told him I wanted to file a grievance against them, as they stated it would take 2 to 3 weeks for approval. Well, I'm not sure if that had anything to do with it, or not, but my surgeon was faxed a pre-certification letter before my surgery, something my surgeon said my insurance carrier had never done before.
Lori Reese writes:

I have BC/BS (Blue Cross/Blue Shield) and just had my lap gastric bypass on 12/7/01 (down 32 pounds so far in 5 weeks - woo, woo!).

I really didn't have any problems with approval for my surgery with BC/BS (other than waiting about 3 weeks). The funny part is I really had to fight with them to cover a required pre-op test (EGD) for the surgery! Apparently the diagnosis they kept using was associated with weight loss MANAGEMENT which my insurance didn't cover (only weight loss SURGERY).

I made phone call after phone call to BC/BS after receiving each EOB (Explanation Of Benefits) denial, and each time I was told it should be covered - we'll review it again and you'll get a new EOB in the mail, only to be rejected again. And I wasn't about to pay over $1300 for something my insurance should be paying!

FINALLY I wrote them a letter explaining how long this run around had been going on and what I was being told every time, and that this was a required pre-op test for a surgery that BC/BS had already approved through predetermination. I guess that finally did the trick, but they didn't agree to pay for it until after my surgery (which had already happened by the time all this finally got straightened out). I guess maybe they had to see that I really had this surgery that had been approved first?

I guess the key here is to have determination. I must have received 6 or 7 denial EOB's from BC/BS before I finally got this paid. If you really think something should be paid for, don't be afraid to call your insurance company and state exactly why you think this should be covered.

Sometimes it takes a carefully worded letter to get things taken care of, but don't give up. A lot of times it will work. I have fought with insurance companies before and almost always win after I write them a letter explaining the specifics of the situation and exactly why I think it should be covered. Gather your facts and present them in a nice but persistent way. A lot of times it's just a little error in how things were coded on the billing end that automatically creates a denial.

Don't give up!
Jo Ewers writes:
At my last check-up, the nurse said that she knew of several people who negotiated with the hospital for a reduction of the price for surgery. If they have to pay for it themselves, they will tell the hospital how much they are willing to pay, and most of the time the hospital will accept it as they want the money! Anyway, it is worth a try before giving up.
Jo Ewers
post-op Nov. 6 2001.
Lost 47 lbs so far.
YEAH!!!
From Brenda in Virginia:
I had my first appointment with my surgeon on March 28, 2001. My material was submitted to my insurance company and I was denied. I was totally crushed! I cried and thought it was useless. I was right on the border of the insurance company's approval weight – 100 pounds overweight, but I had a lot of medical problems associated with my weight.
Well, I picked myself up and being a "research freak" I went to work. First I called my insurance Co. and asked them what I needed to do, name and addresses of whom I was to send the appeal too, etc... Then I went to all the bariatric sites I could find and looked up insurance issues, I found people with the same insurance as I had, CIGNA, and how they dealt with it. Then I got on the phone and called all my doctors, OBGYN, Orthopedic, General Surgeon, family doctor, etc. I asked them to write a letter to my insurance company and send it to me, explaining why I need this surgery. I also stressed my need for getting them ASAP. In the mean time, I called my drug store and got the regular price of all the medications I was taking, and could not take after surgery, you know the ones the insurance company was paying for, and logged them, explaining all of this in my "appeal packet."
I won my appeal and had my surgery on August 15, 2001. I am now 75 pounds lighter and much healthier.
Brenda Emory from Virginia e-mail: Brdacella@aol.com