Subscribe
to our
FREE Monthly
e-Newsletter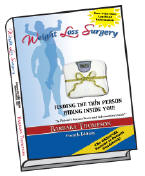 Have You Ordered Your Book Yet? Click Here
Question of the Month
Exercise
This is from my very good friend Terry from a town in Pennsylvania with the name of 84.
Barbara,
In your newsletter you asked for inspiration on exercising. I will try to explain what worked for me.
First, I went through this surgery which was may last hope for a normal life. It did give me my life back. 160 pounds lost is fabulous. But it wasn't easy. I have failed at all diets in the past. I was not going to fail this time. When I started reading about people who were one or more years post-op regaining 5, 10 or more pounds back, I got scared. I love being a size 14 and I didn't want to go back to my size 16 jeans.
So exercise was next, and believe me I never enjoyed it; as a child or as an adult. Gym class in school was, well I can't even explain it. I hated it. In the past I have joined many fitness programs along with every diet program or diet gimmick down the road. I stuck to nothing and lost or wasted tons of money. So what changed? Like I said it was fear of regaining weight and being a failure again. So what I did was go to every fitness center around me and check them out. I looked at who was there and what they had to offer. I didn't want to join a place with a bunch of body builder types. The one I chose has a diverse mix of people who belong from 16 year olds to 80 years olds, fat to skinny, to body builder types to those who are not. It was more expensive but not that much more. I joined and started to exercise, my energy level rose and I became determined to keep going.
I started out slowly, and built my endurance very slowly. Then I got started with the weight machines. It has always been said that more muscle the higher metabolism. Not knowing how to really build muscle I decided to hire a personal trainer for 6 sessions. After all $250 was not any more than I would have spent in the past on pills, exercise machines, or diet programs.
And so it started, I now love it. My personal trainer has taught me the proper form and programs to build muscle. Once you start seeing results, it keeps you motivated. I then signed up for 12 more sessions that I share with a woman I met there. It cuts cost and you get 6 weeks, 2 times a week, with a great trainer and someone to laugh with. I love it. Plus I have not gained any weight and believe me I can eat some days non-stop.
From Marachal Young
I didn't want to exercise either, as I just wanted to get home from work and read. We all know that just sitting doesn't do anything for us except to expand what we don't want expanded!
There is a franchise called "Curves for Women" located all over the world. There are a few near my home. Since I know that I will have to exercise before and after surgery, I figured it was time to get started. I checked into Curves and lo and behold, what a wonderful place it is and it only takes 30 minutes to complete a circuit. Of course, I have my best friend going with me. We go 3 to 4 times each week, after work.
The equipment they have is all hydraulics. There is a 4x4 square board for you to march on along with a step to do stepping exercises. You stay on each piece of equipment for 30 seconds. There is upbeat music and an announcer telling you it's time to move to the next station. After 7 1/2 minutes, you stop what you're doing and check your heart rate. There's a chart on the wall that shows what your heart rate should be. The place where I go has more machines so you only have to make the circuit 2 1/2 times around, but we do 3 anyway. We feel so good afterward and the women there are really friendly and lots of help.
So, with someone to go with you and the moving from equipment to equipment, it doesn't become boring.
Marachel K. Young
Middleburg, Florida
From Gina King:
You know, I hated exercise until I found SWIMMING!!!!!!! I liked it a lot when I was in high school, and I cannot tell you how good I am feeling and how fast I am seeing the changes in my body. AND it is not nearly as bone jarring as aerobics.
I even sleep better since I began swimming, and look forward to the end of my work day so I can get down to the pool to JUMP IN. Yipeeee!
From Connie in Florida:
I have a suggestion for exercise. I have been using the aqua jogger equipment in the pool for the last year and it is so easy and makes you feel so good so quickly you will get hooked on it. Itís a belt that keeps you vertical in the water and keeps you floating. You can walk, jog, bike, and cross country ski. Anything you do on land you can do in the water. I take music and have a good time. I use the dumb bells and web fingered gloves also. Water gives a resistance so you get a better workout with less pain on the joints. I go to a spa in the winter months and soon I will be using my neighborís pool. I also use a recumbent bicycle as an alternative source of exercise. I have always had problems with exercise until recently and find it really does make you feel better. I finally have a surgery date of March 25 and looking forward to it. The more you exercise before an operation the quicker recovery will go. I know this because I have had 40 surgeries in 53 years. I was born with bilateral club feet and facial paralysis. I have been blessed and feel that the best is yet to come. Connie in Florida
From Jodie:
I work as a fitness instructor at CURVES FOR WOMEN and what a difference this has made in my life. As a full-time working mother of a 6 year old and a 2 year old, who has time to exercise in a gym or walk for an hour or two????
Curves is a 30 minute fitness and weight loss center. You walk in (no appointments necessary after your first visit). The equipment is hydraulic resistance. There is no need for weights. The harder you work on the equipment the harder it works your muscles. There are 20 stations. Each station is a piece of equipment or a pad on which you jog, march in place or step up and down. It is set up so there is one piece of equipment and then a pad and then another piece of equipment etc. You change stations every 30 seconds-- go around the 20 piece circuit 3 times-- and that equals 30 minutes-- you do a good stretch and you're off to do the rest of the days or nights chores. If you tried to get an equivalent workout at a typical gym you would have to spend about an hour and a half.
When you build muscle you automatically increase your metabolism, support the connective tissue and joints (less knee and back problems), and you build bone density too!! This can ONLY be done through strength training. Walking, aerobics, jazzercise, etc. are all great methods of cardio (strengthening your heart), but those exercises do not build your muscles like weight bearing exercise.
Please feel free to check out the website or better yet stop in if there is one in your area. Curves is the 3rd largest franchise in the world with 3000+ locations. I hope this helps. Love Jodie
From Lisa Porter:
It helps me to have someone to exercise with. Talking with them makes the time pass quicker. I've never enjoyed exercising, but now I really want to so that I can make the most of this opportunity to lose as much weight as possible so that I can be healthy. Getting those little endorphins pumping around in your body makes you feel great, too
From Missy Bowman:
I also struggle with exercise issues. I have found 2 friends that exercise at the same place as I do and I have asked them to call me when they go and I do the same for them. This is a great inspiration and encouragement for me. I work with a fitness trainer at the local YMCA and she calls me if I start to slack. I informed her that laziness would be an issue with me! And some days we award ourselves by soaking in the hot tub
From Sarah Ross:
I believe that trying different forms of exercise is important so you don't get burned out on exercising. I really enjoy step aerobics and I did even before surgery. I try to go to step aerobics one day, and walk the next day, I also tried water aerobics and that was not strenuous at all, but they say it really is a good work out. Also if you work out 4 or 5 times a week, allow yourself to take a day off if your body feels like it needs to.
I believe that weight loss surgery is the best thing I have ever done for myself, but exercise is the key to any weight loss program.
Hi Barbara,

I just found your website and was reading the March newsletter Ė the question of the month was about keeping motivated to exercise. The gym where I work out is not real big and I see the same faces Ė I often donít know the name, but I know the face. Iíve been going there for about a year now. We all know that building muscle does not show up on the scale as weight loss and itís tough to see the scale stay at the same place for what seems like an eternity. Many of the regulars and staff comment on how well Iím doing and ask my secret. Most are amazed when I say the scale hasnít moved in the last 4 months Ė and my clothing size has not changed either. In any case Ė I must look healthier or at least my perseverance is encouraging to them and their comments help keep me motivated.

Diane Skean